Artwork
"Let us seek our images among the work of those who have dreamed the longest, those who valued matter; let us rely on the alchemists."
– Gaston Bachelard, The Air and Dreams
/
Riopelle, the
alchemist of matter
My father, Jean Paul Riopelle, used to refer to his paintings as "sculptures in oil,"1 a statement that suggests the importance he accorded to the material, plastic elements of his art. He was, of course, a sculptor as well as a painter, working first in clay, then moving on to wax, sandstone, porcelain, even bread crumbs. In all his work, and in all of the many media he explored, he cared deeply about the materials of art, which for him were a constant preoccupation and challenge. Indeed, throughout his career, Riopelle literally embraced matter. He loved first and foremost the direct and spontaneous contact with the elements, digging in with hands full, without sophisticated tools, except perhaps for the custom-made palette knives that he often used in working with paint. Riopelle's love of an immersive contact with the elemental materials of his art explains in part his initial reluctance to use more elaborate techniques such as lithography or etching. Eventually, however, he would finally master these as well, fashioning a language of mysteriously prophetic clues that leave room for unlimited interpretation.
It could be said that for Riopelle the essential and unavoidable task was to acquire knowledge about the materials of his art, the better to master or even transcend them. […] So, too, did he seek to safeguard and pass on knowledge about artistic materials and techniques.
This desire grew as he gained experience over the years, in particular through the printing house Arte, directed by Adrien Maeght, and the engraving and ceramic workshops at the Maeght Foundation in the south of France, where Marguerite and Aimé Maeght, founders of Galerie Maeght in Paris, provided communal spaces for artists. From this experience emerged Riopelle's desire to create a foundation of his own, a creative space where artists and technicians would collaborate in workshops in sculpture, painting, engraving and other techniques, […] [to broaden the reach of his art internationally, to constitute archives and compile a catalogue raisonné for his oeuvre].
What can we say about his unlimited imagination? Is research not the "essence" of creation? So much research, so many fascinating experiments! Some remained at the study stage – sets for the Merce Cunningham dance company (1966), plans for work in stain glass (circa 1967), a monumental ceiling for the Montreal city hall (circa 1981), an attempt to combine etching and screen printing (circa 1984), [engraving on porcelain paper (1986)], [stage curtains (1988-1989)] and various architectural designs [imperatively based on lighting] for the Jean Paul Riopelle Foundation, including a [very elaborate] plan for the building that would house the foundation, inspired by an antique [tri-dimensional, multi-reading] sundial at La Tour in Vétheuil, France, where he lived with his longtime companion, the American artist Joan Mitchell.
Countless other experiments, however, were fully realized, integrating matter in all its forms—solid, liquid, gas. Sometimes this occurred within a single work, as with La Joute fountain, located at Place-Jean-Paul-Riopelle in Montréal, which combines water and bronze with the light and energy of fire.
[Riopelle's] lifelong experimentation produced a massive oeuvre of over six thousand paintings, sculptures, and other works, the extent of which is still being established today [but a glimpse into Riopelle's powerful mind and worldview]. […]
In his final work, L'Hommage à Rosa Luxemburg, dedicated to Joan Mitchell, Riopelle went so far, in a last attempt to capture the ephemeral, [as to even spray with aerosol paint] migrant birds, figures emblematic of his past life, [transforming them into decoys], as if at the very moment of their last breath…
Excerpt from the preface of the book Jean Paul Riopelle: The Artist's Materials, Los Angeles by Yseult Riopelle (2010), Getty Publications, 2011.
1Pearl Sheffy, "Jean Paul Riopelle Talks about Art", The Globe Magazine, Toronto, p. 6 – 8, May 1964.
Catalogue raisonné
"The Catalogue raisonné de Jean Paul Riopelle is the result of well over 30 years of research and prospection. The total absence of archives prior to 1985 – the artist himself never kept an inventory of his work – required me to trace back his memory and request access to private and public collections around the world.A laborious task, this research is, above all, a respectful homage to the œuvre of Jean Paul Riopelle, a formidable inquiry led with tenacity and passion. Today, with tomes 1 to 5, as well as the Catalogue raisonné des estampes published in 2005, I am presenting you with six important compilations of my father's œuvre, recognized as one of the most important artists of the 20th century.
More than a catalogue, these works are also art books, documented with unpublished texts, which bring a new perspective on the comprehension of the artworks as well as a new light on the history of each period."
– Yseult Riopelle
The great
exhibitions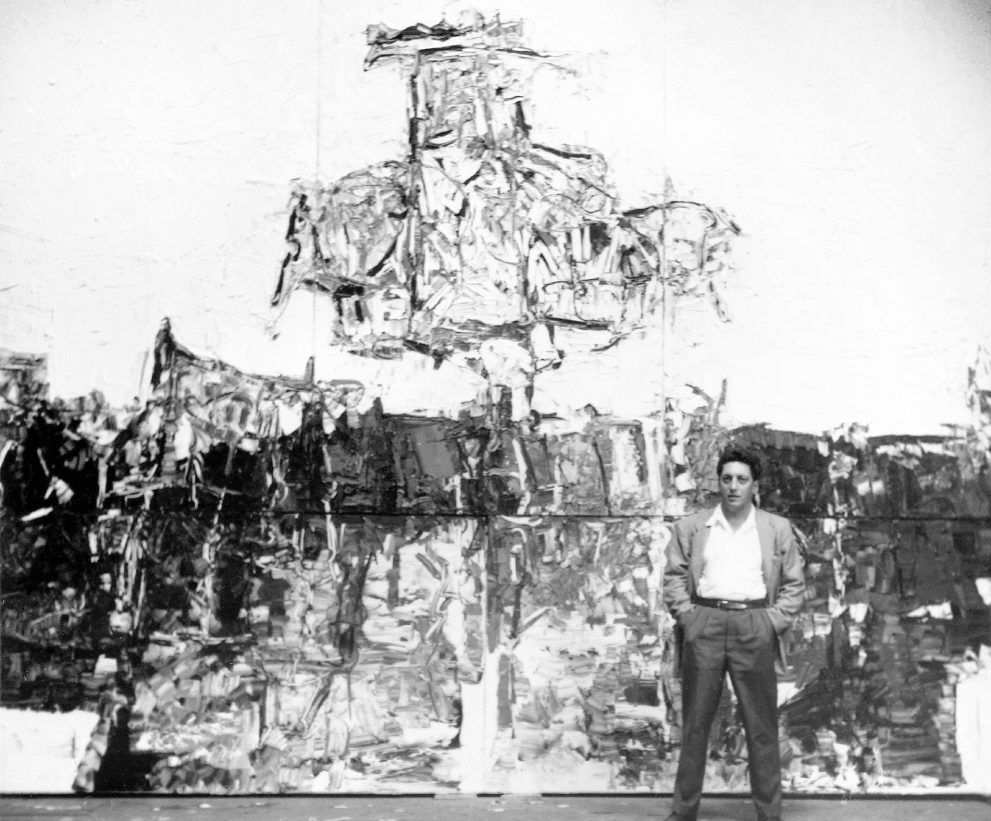 Jean Paul Riopelle exhibits at the 61st Salon du printemps at the Montréal Museum of Fine Arts in 1944. In 1946, he participates to the first Exposition automatiste taking place at 1257 Amherst Street in Montréal, with Paul-Émile Borduas, Marcel Barbeau, Fernand Leduc, Jean-Paul Mousseau, Pierre Gauvreau and Roger Fauteux. That year, his work is presented with the Borduas group at Studio Boas in New York. In 1947, the Exposition automatiste is presented at Galerie du Luxembourg in Paris. Finally, Riopelle presents in 1949 his first solo exhibition at Nina Dausset's Galerie La Dragonne, in Paris. It will mark the beginning of a stellar career.
From 1945 until today, over 200 solo or group exhibitions, featuring Riopelle, were presented. As early as 1951, we can find Riopelle in Berlin, Brussels and Sao Paulo. The next year, it is Philadelphia, Zurich and London. As of 1953, Riopelle is regularly featured at Galerie Pierre Matisse in New York. In 1953, his presence at the Younger European Painters' exhibition at the Guggenheim Museum in New York is remarked upon.
Through time, Riopelle's artwork will be exhibited in various cities in the United States, Italy, Sweden, Switzerland, Brazil, Germany, Japan, Poland and Austria – the list is endless. Several museums will dedicate important retrospectives to the artist and his work.
In Canada, the touring exhibition, Jean Paul Riopelle, Peinture et sculpture, including works presented at the Venice Biennale in 1962, is presented in Ottawa in 1963 at the National Gallery of Canada, then Montréal, Toronto and Washington. In 1981, the Musée national d'art moderne du Centre Georges-Pompidou, in Paris, presented Jean Paul Riopelle, Peinture, 1946 -1977, an exhibition that later travelled to the Musée du Québec (now Musée national des beaux-arts du Québec). In 1991, the Montréal Museum of Fine Arts presented Jean Paul Riopelle. In 2002, two major Riopelle exhibitions are presented, one at the Montréal Museum of Fine Arts and the other at the Musée du Québec. In 2018, the Musée national des beaux-arts du Québec presented Mitchell/Riopelle – un couple dans la démesure, which also travelled to Landerneau, France.
Riopelle continues to fascinate; in the fall of 2020, the Montréal Museum of Fine Arts will present a major exhibition entitled Riopelle: The call of Northern Landscapes and Indigenous Cultures.
This major exhibition will also travel across Canada, as of spring 2021, including, among other destinations, the Audain Art Museum in Whistler, British Columbia.
For a complete chronology of the exhibitions, please visit Le Catalogue raisonné de Jean Paul Riopelle
Riopelle in the great public collections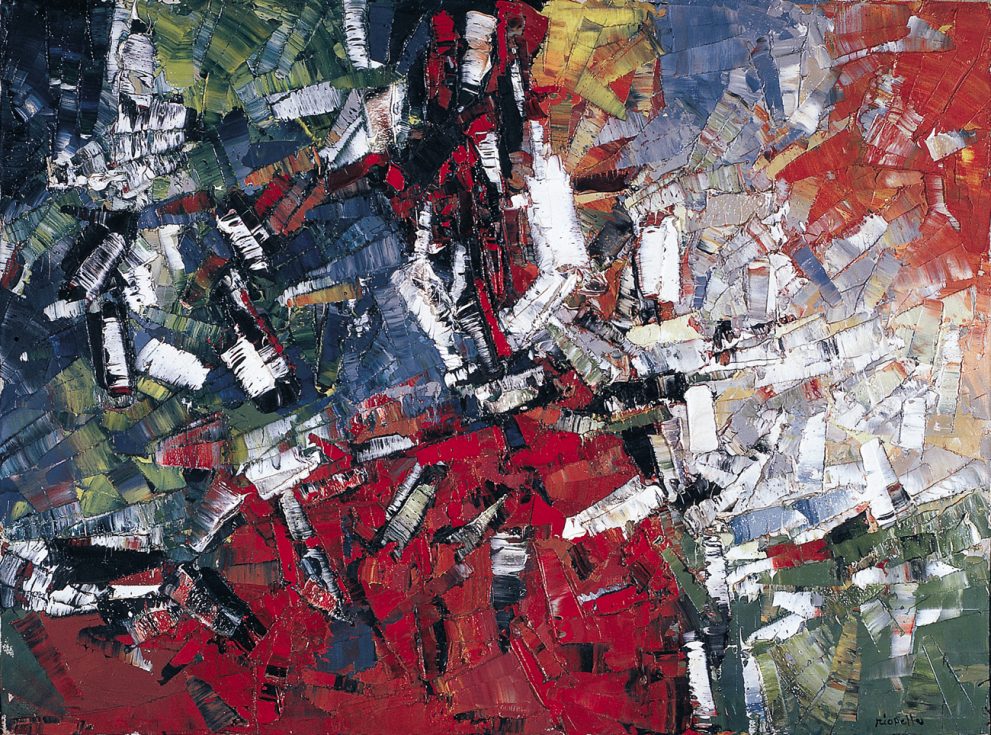 According to the partial data at our disposal [1], Riopelle artworks in public collections, whether currently exhibited or in the reserves, are disseminated in over 60 cities located in 18 countries on 6 continents. In total, this amounts to no less than 400 paintings, excluding engravings and sculptures.
Canada takes on the lion's share with 186 artworks, of which 114 are in Québec and 51 in Ontario. The Musée national des beaux-arts du Québec counts 35 pieces, including several masterpieces: L'Hommage à Rosa Luxemburg (1992, mixed techniques on canvas, 1.52 x 40 m, triptych) and Poussière de soleil, a magnificient mosaic from the 1950s (1953 -1954, oil on canvas, 270 x 345 cm). The Montréal Museum of Fine Arts has a collection of 32 Riopelles and the Musée d'art contemporain de Montréal, 17; the National Gallery of Canada, in Ottawa, has 16, including Hommage aux Nymphéas – Pavane (1954, oil on canvas, 300 x 550.2 cm, triptych) and the Art Gallery of Ontario, in Toronto, 9.
The United States, meanwhile, have at least 28 Riopelles. Among others, the Hirshhorn Museum and Sculpture Garden in Washington counts 15 artworks by Riopelle. There are 3 at the Guggenheim Museum and one at the Museum of Modern Art, both in New York.
The European museums count not less than 53 Riopelles. France ranks first with 21, of which 7 are at Centre national d'art et de culture Georges-Pompidou in Paris. Among other masterpieces, we find Chevreuse (1954, oil on canvas, 300 x 390 cm), Feu vert, a piece from the Bridgehampton series (1960, watercolour and ink on marouflaged paper,185 x 425 cm) and Mitchikanabikong (1975, oil on canvas, 195 x 130.5 cm, x 3, triptyque). France also has a masterpiece from the 1960s, Point de rencontre (1963, oil on canvas, 428 x 564 cm, 5 panels), a gift from the Canadian Government to France on the occasion of the bicentenary of the French Revolution. Until recently, it was exhibited at Opéra de Bastille in Paris. It is currently being restored. Finally, a great mosaic from the 1950s is in Musée de Rennes in France, Sans titre (1953, oil on canvas, 114 x 145 cm).
Germany has 8 Riopelles, of which 3 are in Ludwig Museum in Cologne; 8 are in Switzerland, of which 4 are in various museums in Geneva. The others are disseminated between London, Brussels, Oslo and Stockholm.
Elsewhere in the world, according to our data, Riopelles are scarcer: 3 in Japan, 2 in Australia, 1 in Mexico, 1 in Israel and 1 in Iran. In the latter case, it is a masterpiece: Baubesse 2 (1956, oil on canvas, 204 x 220 cm) preserved at the Tehran Museum of Contemporary Art.
For more details about the great public collections, please visit Le Catalogue raisonné de Jean Paul Riopelle.
[1] Based on partial data. The research is ongoing to identify all public collections including Riopelle artworks.
Riopelle and
the art market
According to Thierry Ehrmann, founder and chief executive officer of the French corporation ArtMarket.com, which specializes in art market quotations, the international market reached in 2019 a level of performance similar to that of the financial market: for the first half of the year, the performance of the Artprice 100 index reached 16%. The Artprice index informs collectors about the position of the 100 best-rated modern and contemporary artists.
A fact worth noting: in 2019, Jean Paul Riopelle entered this prestigious top 100. It can hardly come as a surprise, considering that in 2017, two masterpieces from the mosaic period, Sans titre (1953) and Vent du nord (1952-1953) were respectively sold for US $ 5,771,276 and US $ 5,529,436 – the second and third highest-priced Canadian pieces of art surpassed, to the best of our knowledge, only by one painting, Mountain Forms by Lawren Harris, which sold at auction for over  US $ 8 million in 2016.
According to the data published by the auction houses Christie's, Heffel and Sotheby's, no less than 26 Riopelles were sold for US $ 1 million or more between 2006 and 2019. With the exception of one painting completed in 1967-1968, all of these artworks belong to the mosaic period of the 1950s. Twelve were sold in Paris, 11 in Toronto, 2 in London and 1 in New York City, according to the Artnet website.
The five highest prices at auction sales were:
US $ 5,771,276 Sans titre, 1953, oil on canvas, 200 x 300 cm, Christie's, Paris, 2017
US $ 5,529,436 Vent du nord, 1952/53, oil on canvas, 129.5 x 194.9 cm, Heffel, Toronto 2017
US $ 4,912,382 Forestine, 1954, oil on canvas, 200 x 300.5 cm, Sotheby's, Paris, 2018
US $ 2,295,426 Composition, 1951/52, oil on canvas, 100 x 200 cm, Christie's, Paris, 2012
US $ 2,243,822 La Forêt, 1953, oil on canvas, 130 x 195 cm Sotheby's, Paris, 2015
Many prestigious paintings were also sold privately by two prominent Riopelle art dealers, namely Franck Prazan in Paris and Simon Blais in Montréal.
Although Riopelle paintings continue to break auction records, the artist always was determined to make his art accessible to people of more modest means than just the buyers of his major oil paintings. So there is still much available at reasonable prices. For example, in 2020, eleven fine paintings on canvas sold at auction for under US $100,000, while samples of his beautiful works on papers and lithographs abound in both auction houses and at art dealers. Even better, in 2020 sixteen watercolours, pastels and gouaches were sold at auction for prices ranging US $6,000 to $48,000 while there were also thirty-eight lithograph and colour etching sales made at prices US $900 to $5,000. Prospective buyers should, of course, ensure that the works are genuine by patronizing well-established dealers or consulting the Catalogue raisonné de Jean Paul Riopelle.
Reproduction Rights
and Artwork Authentication
In Canada, artwork is protected by the Copyright Act. Anyone wishing to reproduce or disseminate any artwork must first obtain a licence and pay the required fee. It is the case, for example, for any artwork reproduced in a book or presented as part of an exhibition.
Any reproduction of Jean Paul Riopelle artwork is subject to the provisions of the law. Any reproduction must indicate, in addition to the name of the artist, the title of the artwork, the year, the dimensions, as well as the following mention:
© Estate of Jean Paul Riopelle / SOCAN or
© Succession Jean Paul Riopelle / ADAGP
Artwork must be reproduced in its entirety, without any modification, excluding the reproduction of details or overprint as well as any other element that is not a part of the artwork. Any and all use of artwork by Jean Paul Riopelle is subject to prior approval.
In Canada, please contact SOCAN:
Society for Reproduction Rights of Authors, Composers and Publishers in Canada
c/o: Gilles Lessard
gilles.lessard@socan.com
514.844.8377 ex. 4226
In Europe, please contact ADAGP:
Société des auteurs dans les arts graphiques et plastiques
11, rue Berryer
75008 Paris, France
Tel : (33) 01 43 59 09 79
www.adagp.fr
Authentication of artwork
Any and all requests pertaining to the authentication of artwork must be addressed to Yseult Riopelle via info@riopelle.ca